The Turbulent, Thrilling Saga of the Building of Hoover Dam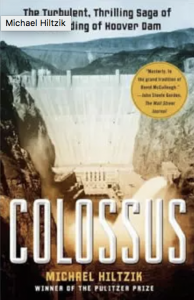 As breathtaking today as when it was completed, Hoover Dam ranks among America's most awe-inspiring, if dubious, achievements.
This epic story of the dam—from conception to design to construction—by Pulitzer Prize-winning journalist and Los Angeles Times columnist Michael Hiltzik exposes the tremendous hardships and accomplishments of the men on the ground—and in the air—who built the dam and the demonic drive of Frank Crowe, the boss who pushed them beyond endurance.
It is a tale of the tremendous will exerted from start to finish, detailing the canny backroom dealings by Herbert Hoover and Franklin D. Roosevelt, the herculean engineering challenges Crowe faced, and the terrific union strikes by the men who daily fought to beat back the Colorado River.
Colossus tells an important part of the story of America's struggle to pull itself out of the Great Depression by harnessing the power of its population and its natural resources.