New River Diversion Structure Under Construction as Part of the Species Conservation Habitat Project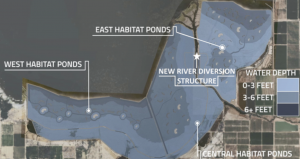 The Species Conservation Habitat (SCH) Project, spanning the New River at the southern end of the Salton Sea, will create a network of ponds and wetlands to provide important fish and bird habitat while suppressing dust emissions to improve regional air quality as the Salton Sea continues to recede. On schedule for completion in 2023, the 4,100-acre SCH is the first of many projects the Salton Sea Management Program (SSMP) team will implement as part of the SSMP Phase 1: 10-Year Plan.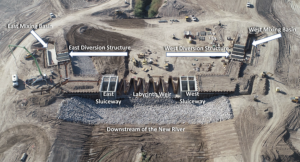 The New River diversion structure is a major component of the overall SCH Project. It will allow water diversion into the habitat ponds. The East and West Sluiceways will allow the water coming from the New River to flow north into the Salton Sea. The Labyrinth weir will allow the New River water to rise and a portion of it will flow by gravity to the New River West and East Intake Structures. The mixing occurs between the weir and the sedimentation basins at the mixing basins. Saline water from the Salton Sea is pumped in from the Saline Pump Station located at the north end of the Causeway into the mixing basins. The mixed water (from the New River and from the Salton Sea) will then flow by gravity to the sedimentation basins and then to the habitat ponds. The New River diversion structure is also a flood control structure that will allow for water to go through without compromising the integrity of the project.
During the first phase of construction of the diversion structure, material placement and removal was completed for ground improvement. Then followed by excavation and embankment, installation of sheet piles, and the concrete and rebar installation for the weir structure. The New River Diversion Structure is anticipated to be completed by the end of 2022.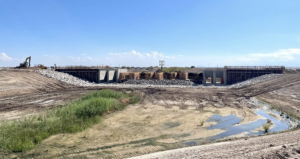 A few weeks ago, SSMP partners from Audubon California published a blog post that narrates their recent experience at the SCH Project site. "We were pleasantly surprised to find ourselves counting thousands upon thousands of Black-necked Stilts, Long-billed Curlews, Least and Western Sandpipers…"