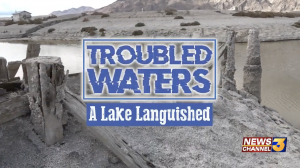 Along the dusty shoreline of the Salton Sea, you could blink and you'd miss it: the Ski Inn, the only bar around the east side of the lake for 40 miles.
This neighborhood bar and restaurant in Bombay Beach is a local watering hole that's been here for decades, an obscure Anthony Bourdain stop, wallpapered with dollar bills from visitors through the years. It's certainly a bar that's seen better days.
"There was five bars in this town. And they were all packed every weekend. And slowly, they all went away," said Sonia Herbert, the owner of the Ski Inn.
Gone away with the shrinking waters of the Salton Sea, Herbert said, as she has watched life at the lake wither away for the past 45 years.
"It's a crying shame that they're letting this whole beautiful area die," Herbert said.