By Ian James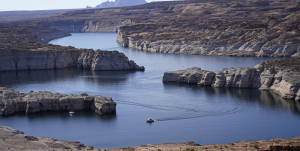 Debate over Colorado River cutbacks centers on whether evaporation should be counted. Changing the formula would hit California hard. (Rick Bowmer Associated Press)Much of the Colorado River's water is diverted from reservoirs and transported in canals to the farmlands and cities of the desert Southwest. But some of the water also ends up going elsewhere — vanishing into thin air.
Water lost to evaporation has become a central point of contention in the disagreement between California and six other states over how to divide reductions in water use.
A proposal submitted by Arizona, Colorado, Nevada, New Mexico, Utah and Wyoming calls for relying heavily on counting evaporation and other water losses from reservoirs and along the river in the Lower Basin — the portion of the watershed that begins near the Grand Canyon and stretches to northern Mexico.
Counting those losses would mean immediate reductions of more than 1.5 million acre-feet across the region. It would also translate into especially large water cutbacks for California, which uses the single largest share of the river.
Under the proposal by the six states, Southern California water agencies would be required to absorb the largest share of the cuts, including a potential reduction of more than 18% for the evaporation losses alone, which could rise to 32%if reservoirs hit critically low levels.
The proposal also calls for major reductions in Arizona and Nevada. But the portions of those cuts based on accounting for evaporation would be smaller: about 13% for Arizona and 6% for southern Nevada.
California's water managers argue that suddenly including evaporation in the math would amount to a drastic rewriting of the rules that would flout the water rights system. They have proposed a different approach that calls for more gradual reductions and wouldn't involve evaporation losses.
"California's focus has been, what can we do in the interim that's pragmatic, practical, doable, that's not going to make big, lasting changes," said Wade Crowfoot, California's natural resources secretary. He said changes that would compromise existing water rights would be "a bridge too far in the near term."
The Colorado River supplies water to farming areas, cities and tribal nations from the Rocky Mountains to northern Mexico. Chronic overuse combined with 23 years of severe drought and the effects of climate change have pushed the river's two largest reservoirs, Lake Mead and Lake Powell, to their lowest levels since they were filled.
The growing risk of a collapse in the water supply has prompted federal officials to demand that the states come up with approaches for preventing reservoirs from bottoming out.