One proposal would bring cuts of 2 million acre-feet of water for users pulling from the drought-choked Colorado River system, mostly affecting California, Nevada and Arizona, in an attempt to conserve the region's most valuable commodity: water.
When looking at the plan released Monday by six of the seven states that rely on the Colorado River for their water supplies — and fiercely try to protect what they believe is their fair share — one water expert came to a harsh conclusion.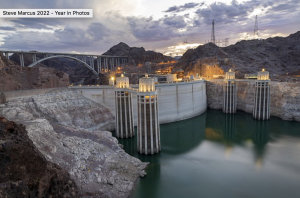 "It's a bandage for a gunshot wound," said Kyle Roerink, the executive director at the Great Basin Water Network.
The proposal, Roerink says, falls short because it puts the burden mostly on the three southwestern states — the so-called Lower Basin states.
"I think any time we see a proposal put forth that is going to limit consumptive uses, that's helpful," Roerink said. "It's promising, but when you look at who's giving up what, it just begs the question: Why does the Upper Basin get off scot-free?"
The Colorado River and its tributaries pass through seven states and into Mexico, serving 40 million people and a $5 billion-a-year agricultural industry. Some of the largest cities in the country, including Los Angeles, Phoenix, Denver and Las Vegas, two Mexican states, Native American tribes and others depend on the river that's been severely stressed by drought, demand and overuse.
The 1,450-mile river also generates hydroelectric power for regional markets and irrigates nearly 6 million acres of farmland.
States missed a mid-August deadline to heed the U.S. Bureau of Reclamation's call to propose ways to conserve 2 million to 4 million acre-feet of water. They regrouped to reach consensus last week to fold into a larger proposal the Bureau of Reclamation has in the works.