The Interior Department outlined a path for unilateral cuts last week, upping the pressure on western states. source: Grist.org
In theory, the federal government can unilaterally cut water deliveries from the Colorado River's two main reservoirs, Lake Powell and Lake Mead, which release more than 2 trillion gallons of water to farms and cities across the Southwest each year. In reality, this has never happened: Previous cuts have always been negotiated between the federal government and the seven states that use the river.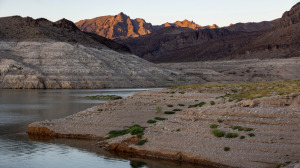 Late last week, however, the federal government sent its strongest signal yet that it is willing to single-handedly impose water cuts on the Colorado for the first time in history, as the U.S. West stares down the consequences of a climate-change-fueled megadrought that has parched the river.
The Department of the Interior, the federal agency that manages water in the Colorado River basin, announced on Friday that it would look into changing the rules for how it operates Lake Powell and Lake Mead, which are located in southern Utah and southern Nevada, respectively. This would pave the way for the department to impose sharp cuts on major water users in Arizona, Nevada, California, and Mexico, which receives water pursuant to a 1944 treaty.
In effect, the letter is a formal warning to the river states, telling them that if they fail to make the major cuts necessary to prevent the reservoirs from bottoming out, the feds won't hesitate to unilaterally cut their water deliveries to do so.
The Interior Department said in its Friday letter that it would conduct an environmental review before changing the rules to impose new cuts on the states. This will give states one more chance to come up with their own voluntary reductions before the government enacts its own. According to John Fleck, a professor of water policy at the University of New Mexico, the upshot of all this is that unprecedented water reductions are all but guaranteed next year.
"Whether those cuts are imposed by a government action, or voluntary action by the states, or the fact that the reservoirs are fucking empty, they will happen," he told Grist.
The new review comes after months of tense negotiations between the federal government and the seven basin states: California, Colorado, Utah, Wyoming, New Mexico, Nevada, and Arizona. Earlier this year, as water levels in Lakes Powell and Mead fell to historic lows, officials at the Interior Department's Bureau of Reclamation ordered states to reduce their water consumption. The Bureau wanted a total reduction of between 2 and 4 million acre-feet — roughly a third of all water usage on the river.