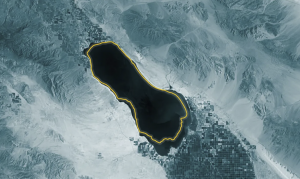 Time is running out to come up with a plan to save the Salton Sea. Water levels in California's largest lake continue to drop, subjecting nearby communities to harmful levels of toxic dust stirred up from the dry, exposed lakebed.
For more than a century, the shallow lake has been a beneficiary of the Colorado River water that feeds the nearby Imperial Valley farm fields. As water was sold off and diverted, more than 15,000 acres of lakebed containing years of fertilizer and pesticide runoff were exposed to the air and desert winds.
The dwindling water supply increases the lake's salinity, killing off fish, destroying once-lush migratory bird habitats and making children sick from the airborne toxins stirred up in the dust.
The California Natural Resources Agency was tasked with coming up with a long-term fix by the end of 2022, and 11 plans on the table focus mainly on one big idea: pulling in water across the U.S.-Mexican border from the Sea of Cortez north to the Salton Sea. Some proposals are more ambitious than others, envisioning tourism and shipping industries popping up along the desert canal.
Though full costs are unknown, fixing the Salton Sea arguably would be the biggest North American water project since the construction of the Hoover Dam in the 1930s.
What's happening to the lake?
The modern Salton Sea – which has filled several times before – formed in 1905, when floodwaters from the Colorado River to the east breached an irrigation canal and dumped into a low-lying area called the Salton Sink, a depression in the desert that formed the lower basin of the ancient prehistoric Lake Cahuilla.
In the hundred years since the lake formed, it's been sustained by agricultural runoff and became a rare stopover point for migratory birds traveling the Pacific Flyway.
As the Colorado River water has been transferred from the farms neighboring the lake to growing urban areas, the Salton Sea's footprint has shrunk.