BY JONATHAN J. COOPER, KATHLEEN RONAYNE- Los Angeles Times.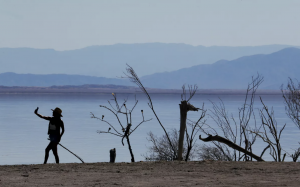 California communities exposed to hazardous dust by a drying lake bed have found themselves at the center of tensions between Arizona and California over how to conserve water along the overtaxed Colorado River.
U.S. Sen. Mark Kelly, an Arizona Democrat facing reelection, wants the federal government to withhold money for environmental cleanup at the Salton Sea until California agrees to use less of its share of the river. He also faulted the U.S. Bureau of Reclamation for not being clear about when and how it will act if the seven Western states that rely on the river fail to significantly lower their use.
"We are out of time," Kelly wrote Tuesday in a letter to the U.S. Department of the Interior. "The longer the Department waits to press for an agreement … the more difficult this crisis will be to solve, leading only to tougher choices and litigation."
Federal officials in June said the states must dramatically cut usage as key reservoirs risk dropping so low they can't produce hydropower or supply water users. But the states blew through an August deadline without a plan. Congress has dedicated up to $4 billion in part to pay farmers and cities to use less water, but its impact remains unclear.
Much attention is on California, the largest holder of the river's water and the last to lose in times of shortage. The state's users said recently they would cut use up to 9% contingent on federal money and a plan to clean up toxic dust around the Salton Sea.