SACRAMENTO – Senator Steve Padilla (D-San Diego) today introduced Senate Bill 583, creating the Salton Sea Conservancy, unifying the state's efforts to accomplish necessary and overdue preservation projects, protecting residents' health, and fostering ecological recovery in the area.
With a surface area of 343 square miles, the Salton Sea is California's largest lake and was once a freshwater lake and a thriving tourism destination. Evaporation, exacerbated by climate change, along with agricultural runoff, has exposed toxins in the lakebed and created a perfect environment for dangerous algae blooms and bacteria to thrive. Some experts estimate the sea will lose more than half its volume by 2030, creating close to a 3-foot decline in the water level. As the sea shrinks, the lakebed containing elements such as arsenic and selenium becomes exposed, and the dust particles that then become airborne, spread the toxins throughout the region.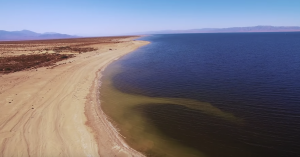 The exposure has had an overwhelming impact on the surrounding communities, predominantly composed of Latino agricultural workers. Hospitalization rates for children with asthma in the area are double the state average and residents have been especially affected by the rotten-egg odor from hydrogen sulfide overrunning the sea's oxygen-deprived water. Imperial County, where the Sea is located, now suffers from some of the worst air quality in the country.
There have been numerous efforts by environmental justice groups to mitigate the negative health effects affecting communities. Similarly, environmental groups have sought aid from state and federal sources to preserve the environment correct the toxic health inequities present. Previous attempts to restore the Salton Sea have stalled despite numerous legislative efforts.
SB 583 would create the Salton Sea Conservancy within the Natural Resources Agency, which would then manage all of the conservation projects taking place in the Salton Sea Region. Conservancies have the ability to foster trust with region they serve. Creating the Salton Sea Conservancy would provide the surrounding community a direct link to a central entity, giving them further insight into restoration efforts.
"This is an environmental crisis that not only impacts the ecology of the region, but the people as well. Communities near the Salton Sea are at breaking point," said Senator Padilla. "By unifying all of the conservation projects surrounding the Sea, we can streamline .efforts and bring about necessary change faster."
"We are excited to have a new partner in Senator Padilla, reinforcing our Salton Sea restoration efforts," said Assemblymember Eduardo Garcia, joint author on the legislation. "A Salton Sea Conservancy creates a necessary avenue to finance operation and maintenance of restoration projects and ensure a healthier, more sustainable future for our sea and surrounding communities."
"The creation of a conservancy at the Salton Sea to oversee the acquisition and management of land, create infrastructure and act as a responsible steward of wildlife habitat areas is long overdue," said Frank Ruiz, director of the Salton Sea Program for Audubon California, a member of the Salton Sea Partnership. "As many different entities come together to slow the Sea's decline, coordination and communication are essential, and we thank Sen. Padilla for working to further that."