Source: Public Policy Institute of California
When an irrigation canal was breached in the early 1900s, the resulting flood created Southern California's Salton Sea. It was a rare event that quickly created a beneficial presence in the Imperial Valley, as the lake provided recreation opportunities, tamped down dust, and became a stopover for birds on the Pacific Flyway. But now, with inflows declining, this hundred-year-old sea is drying up, and that's having a host of negative consequences for wildlife and air quality in the region. We spoke with Kurt Schwabe—professor of public policy at the University of California, Riverside and adjunct fellow at the PPIC Water Policy Center—about some of the biggest issues facing the sea, as well as potential solutions.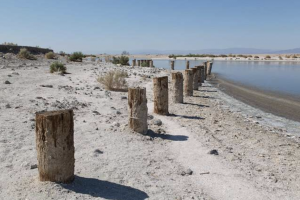 What are the big issues in the Salton Sea, and why has it taken so long to take action?
The first problem is that it's a terminal lake whose inflows are primarily composed of agricultural drainage flows from the Imperial Irrigation District (IID) (around 80%) and wastewater from Mexico (around 10%). This set-up leads to an increasingly polluted sea; as this chemical-laden water evaporates, it leaves behind salts and other pollutants such as metals, fertilizers, and pesticides.
The second problem is that the agricultural drainage flows that have contributed to maintaining the sea's volume for most of the 20th century are considered to be the result of wasteful and unreasonable water use. This legal opinion opened up the doors for water transfers to southern California municipal water agencies from IID, including the large transfers under the Quantitative Settlement Agreement (QSA) of 2003, which helped California meet the federal government's mandate to reduce its Colorado River allocations to its legally allocated annual amount of 4.4 million acre-feet.
The transfers of water from IID to cities is made possible by land fallowing and improvements in irrigation efficiency; both practices lessen runoff and, consequently, inflows to the sea. As the sea shrinks, winds pick up sediments from the increasingly exposed dry lake bed and spread them into surrounding communities, which are mostly low-income, making asthma and other respiratory diseases worse. The smaller lake is also more polluted and saline, which reduces habitat for fish and birds.
It's been almost two decades since the state said it would take on liability to address these issues as part of the QSA deal. It's been underperforming in its short-term responses and wrestling with what would constitute a long-term sustainable solution.