Proposal Outlines Constructive Approach to Achieve Necessary Water Use Reductions through 2026 to Protect Critical Infrastructure, Prioritize Public Health and Safety
California water agencies that rely on the Colorado River today proposed a modeling framework for the U.S. Bureau of Reclamation to evaluate as it considers actions to help stabilize reservoir elevations and protect critical infrastructure to ensure the Colorado River system can continue to support 40 million people, nearly 6 million acres of agriculture, and Tribes across seven states and portions of Mexico.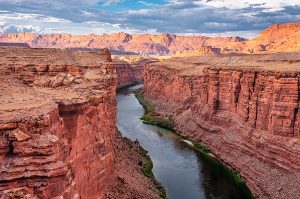 The modeling framework outlines a constructive approach to achieve additional water use reductions while protecting infrastructure, prioritizing public health and safety, and upholding the existing body of laws, compacts, decrees, and agreements that govern Colorado River operations (known collectively as the Law of the River). The approach builds on the California agencies' commitments announced last fall to voluntarily conserve an additional 400,000 acre-feet of water each year through 2026 to protect storage in Lake Mead and help stabilize the Colorado River reservoir system.
California's proposed framework seeks to protect Lake Mead elevation of 1,000 feet and Lake Powell elevation of 3,500 feet by modifying some parameters governing reservoir operations, maximizing the impact of existing plans and voluntary conservation actions, and increasing cutbacks if Lake Mead elevations decline. It also protects baseline water needs of communities across the West by prioritizing water supplies for human health and safety. The proposal was carefully developed to enable workable phased water use reductions and ensures protection of adequate water volumes in Lake Mead and Lake Powell.
"The alternative provides a realistic and implementable framework to address reduced inflows and declining reservoir elevations by building on voluntary agreements and past collaborative efforts in order to minimize implementation delays. California's alternative protects critical elevations and uses adaptive management to protect critical reservoir elevations through the interim period,"
JB Hamby, chair of Colorado River Board of California and California's Colorado River Commissioner, wrote in a transmittal letter to Reclamation.
The approach differs from a modeling proposal submitted to Reclamation on January 30 by the six other basin states. The six-state proposal would direct the majority of water use reductions needed in the Lower Basin to California water users through a new apportionment method based on "system and evaporative losses." The proposal directly conflicts with the existing Law of the River and the current water rights system and mandates cutback without providing tools to manage reductions.
For the past several months, California water users have sought a timely, practical and implementable solution with other Lower Basin users that can be implemented over the next three years to protect critical elevations in Lake Mead while longer-term changes are negotiated to update 2007 Interim Guidelines that will expire at the end of 2026. Suggestions to fundamentally change the Law of River are appropriately addressed through this shared process to update the guidelines.
California's water agencies remain committed to working with all Colorado River basin states to take urgent, fair, and achievable action now to avoid unacceptable risks to communities, farms and economies in California and the rest of the basin.
For decades, California has been a leader in managing its Colorado River water resources and collaborating in basin-wide efforts to more effectively operate and manage the reservoir system and to incentivize water conservation as demands have increased in the face of shrinking supplies due to climate change.