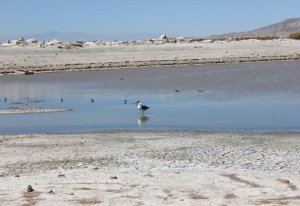 Source The Desert Review
WASHINGTON, D.C. — US Senator Alex Padilla (D-Calif.) announced the US Army Corps of Engineers will receive $172.5 million in federal funding to help move forward critical water infrastructure projects in California. This funding comes from the Bipartisan Infrastructure Law and the 2022 Disaster Relief Supplemental Appropriations Act, both of which Padilla voted to pass last year, according to a press release.
Highlights of California projects receiving funding include:
$28 million to restore and revitalize the Los Angeles River. This project will restore hundreds of acres of habitat around the river and expand access to green space and recreation for thousands of Angelenos.
$35 million for the San Joaquin River Basin to help reduce flood risk to the city of Stockton.
$30.5 million for the Encinitas-Solana Beach Coastal Storm Damage Reduction Project to reduce coastal erosion and improve public safety.
$8 million to improve commercial navigation at the Port of Long Beach to allow larger and more ships to pass.
$1.5 million for a Salton Sea feasibility study to facilitate the development of long-term solutions for public health and environmental impacts of the Salton Sea.
$1.7 million to complete a San Francisco Bay Shoreline feasibility study to develop plans to reduce flood risk and restore wetland habitat along the south bay shoreline.
"The Bipartisan Infrastructure Law continues to deliver for California," Senator Alex Padilla said. "Infrastructure includes the coastal ports and inland waterways that are vital to our economy, and the wetlands and levees protecting communities from storm surges and catastrophic flooding. I'm proud to announce that millions of dollars are coming to California to improve the capacity of our ports, restore natural habitats around our rivers, and provide more green space and areas for recreation."