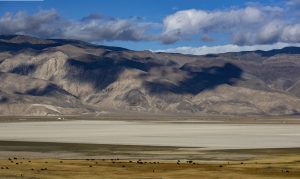 Source: IVPressonline
Comparisons between the Salton Sea and Owens Lake have been made for years, and they've had a variety effect on residents and local officials.
Usually there is a healthy dose of fear, of the future, of the unknown, and what exactly is in store for Imperial County is the Salton Sea dries up.
Unfortunately, there is also a degree of apathy that comes with stories that sometimes feel like the tales of Chicken Little.
But what could become of the Valley is no fairy tale, and this is certainly not a case of someone yelling, "the sky is falling."
For the first time we can remember, the Imperial Valley was privy to a scientific presentation on what happened to Owens Lake, how it compares to the depleting Salton Sea and what could — and will happen — to the local environment if measures aren't taken to restore the sea.
Ted Schade, air pollution control district officer for the Great Basin Air Pollution Control District, gave a sobering and in some ways horrifying presentation on Owens Lake during Tuesday's Imperial County Board of Supervisors meeting. (The PowerPoint of Schade's presentation is available on our website.)
The short history of the lake is, the construction of the Los Angeles Aqueduct in 1913 pretty much drained the lake dry by the 1920s, and in the ensuing decades, the Great Basin was the site of dust storms and some of the highest-concentrations of PM-10 ever recorded in the United States.
Even today, with dust emissions controlled greatly, by 99 percent in some cases, using numerous methods, the Great Basin air shed still exceeds federal air pollution standards.
It's debatable whether this scenario will repeat itself in Imperial County or whether there is the political will and revenue to bring the depleting Salton Sea under control before it's too late. But it's probably a fair guess that pollution around the Salton Sea will get worse before it gets better.
The demands of the water transfer that are already decreasing inflows into the sea are upon us, with a mechanism to fund and rehabilitate the Salton Sea still far from reality.
What that means is, locals have heavy lifting ahead of them and have to push hard to ramp up the efforts to restore the area before the dust storms of Owens Lake because a regular occurrence in northern Imperial County.
Schade's presentation helped put the Salton Sea in perspective through Owens Lake, a presentation fueled with photos, statistics and dollar signs, which have far exceeded $1 billion at this point with more money due to be spent.
We hope this woke up people around the Valley to understand the long-spoken comparisons are not lip service but a future we might be able to avoid.