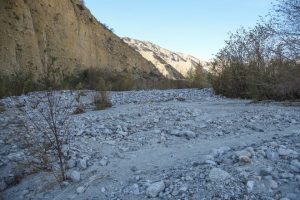 Whitewater River Dries Up
Source: Desert Sun
The Whitewater River, which normally flows year round in the Southern California canyon that bears its name, has run dry there, confounding some hikers expecting a brisk and scenic flow after recent heavy rains.
But those storms are the culprits, says Whitewater Preserve manager Lucas Wilgers, who oversees the area for the Wildlands Conservancy.
"It's kind of counterintuitive … but when larger storms happen, so much water is falling such a short period of time, it just accumulates and kind of coalesces up above," he said.
Fast-moving water carries mud, ash and other debris — including material from the 2020 Apple Fire burn scar — down from steep mountain slopesand dumps it at the stretch of river in the preserve, about 20 minutes northwest of Palm Springs in Whitewater Canyon.