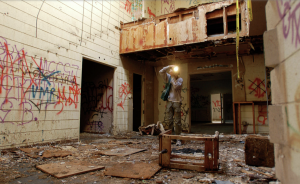 If the sun hits it just right, it looks like the ocean. Pelicans fly overhead, gently cawing and circling the horizon. The skies are a flat, dull blue. But once you walk along its spectral shoreline and feel the grit of translucent fish bones beneath your feet, you realize this cancerous body of water is anything but ordinary.
Spanning about 343 square miles and referred to as "an environmental catastrophe" by water experts, the Salton Sea is in a perpetual state of decay due to the 4 million tons of salt from agricultural runoff that flow into it each year. It's a "terminal sea," meaning that it has no outflow, and it has become a noxious brew that's caused mass bird and fish die-offs over the years.
But before its fabled toxicity took hold, the Salton Sea was once a popular resort destination. It's an unlikely icon, one that's been 
featured in hundreds of films
 over the decades. Growing up in the confines of the suburban, sun-scorched Coachella Valley, I was always drawn to its dying waters.
In 2009, when I finally got to join my father on one of his photography trips to the area, one eerie landmark beckoned to us from a distance: an eviscerated, ghostly clubhouse near the shore. We captured its alluring decay with plastic Polaroid cameras, my eye drawn specifically to its rotting, graffitied interior. We continued through the empty building, navigating a maelstrom of trash, debris and caution tape, careful to avoid loose boards and nails. Apocryphal messages were scribbled on the walls and spray-painted inside dark closets. I distinctly remember walking past "Dead birds everywhere" and taking a photo of the dripping, blackened words "You'll be the last one untied!!!"